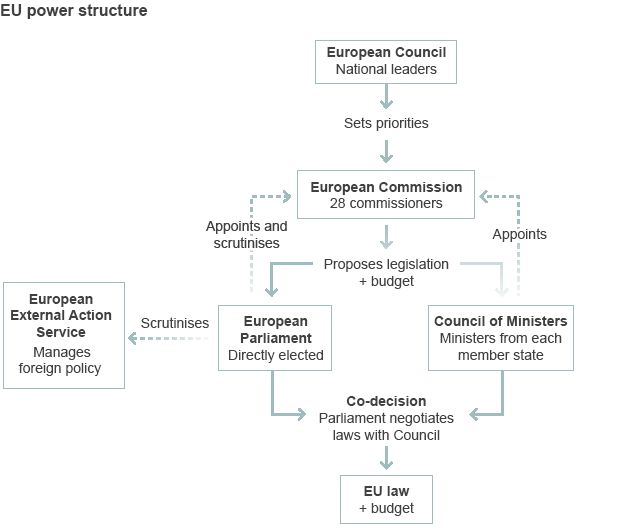 The structure of European decision-making processes
European MEPs have recently voted to increase the proposed recycling target as set out under the European Union' (EU) Circular Economy package to 70%, by 2030. In addition, they also voted in favour of an 80% target for packaging waste, and separate targets for 'preparation for reuse of waste' (5%), and for reuse of packaging waste (10%). Proposals to change the way in which progress towards recycling targets is measured were also backed. If accepted, materials from sorting facilities to count towards final recycling tonnages. Recycling would be measured at the point of input into the final recycling process, or through a derogation, the output of a sorting operation provided it is sent to a final recycling process. The European Parliament has also recommended the removal of requirements for technically, environmentally and economically practicable (TEEP) from separate collection of recyclables.

These proposals will now have to be negotiated between the European Council of Ministers and the European Commission, with final outcomes expected perhaps around the end of 2017, or more likely in early 2018.
Italian MEP Simona Bonafè and member of the Environment Committee argued that "Demand for raw materials by the world economy could increase by a further 50% in the next 15 years. In order to reverse this trend, we must adopt a circular development model which keeps materials and their value in circulation, the only solution able to keep together sustainability with economic growth."
While there is no doubt that there is a need to address consumption levels and enhance the recovery of value from resources, setting high and in many respects unattainable targets is not the best approach. Indeed, in the UK, Defra is reported to be wary of a recycling target that is above the 65% proposed by the Commission. While Jacob Hayler, the Executive Director of the Environmental Services Association (ESA) argued that "Since the start of negotiations on the Commission's proposals, ESA has consistently pointed out that raising recycling rates will not help to achieve a more circular economy unless accompanied by effective measures to increase and sustain the demand for the extra recyclable materials collected. Nothing which the Parliament did yesterday addresses this fundamental issue".
Without doubt, Jacob's statement encapsulates one of the fundamental issues here, as regards to the need to create a sustainable market for the recyclables. It will be a significant challenge for EU countries to move from their current combined rate of 44%, to the proposed 70% target. Crucially, even if they were able to, without the necessary end markets in place, what would become of the materials?
These issues come also within the context of recent debates about deposit return schemes for bottles in Scotland, and concerns about how best to improve the quality of outputs from material recycling facilities (MRFs).
Going forward, there has to be a more joined up and holistic approach, that involves looking at the recycling issue not solely from downstream, but also from upstream as well. It therefore has to take account of strategies such as: sustainable design; sustainable consumption (there has been an interesting report produced recently by the Chartered Institution of Wastes Management (CIWM) on our changing consumption patterns); the lowering or zero rating of taxes on raw materials; and eco-labeling.