EU/US trade sanctions on Iran were lifted last week. A look at the graph below shows the effect of the embrago on oil exports over the past five years. An evident downward spiral.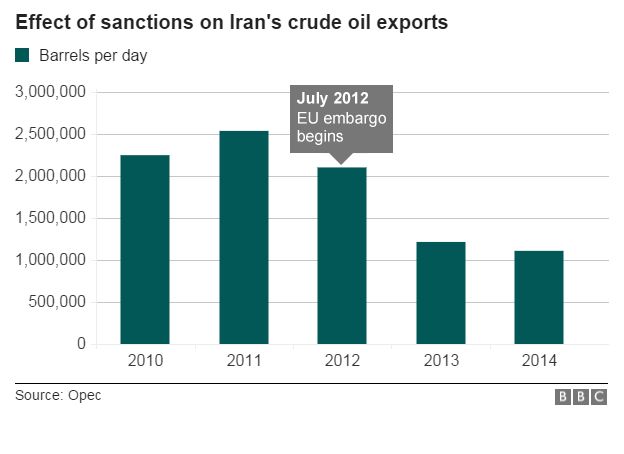 Currently, Iran exports around 1 billion barrels of oil per day. Tehran has said it will hike production by 500,000 barrels per day initially, and then move to around 2.5 million barrels per day, within about a year.
Globally, the price of oil fell below $30 a barrel about three weeks ago, and has been at that price in the US for even longer. It is anticipated that Iran will sell at below market prices in order to recover/gain market share. This is likely to trigger similar moves by competitors such as Saudia Arabia. The result therefore will be even lower prices.
At the same time, the Chinese economy remains sluggish (compared to its previous levels), meaning that they are not importing at anywhere near where it was even two years ago.
However, what has all of this got to do with the resources sector you may ask? While it is true that fuel prices (and by extension the costs of transporting goods), have fallen, the other implications for the sector are significant and potentially devasting.
As I co-wrote, with a colleague, Steve Waite, in an article for the January 2016 edition of the Chartered Institution of Waste Management' (CIWM) journal, supply and demand in the raw materials market is heavily influenced by commodity manufacturers. While the secondary materials market is currently facing significant challenges due to price fluctuations and contractual stipulations.
As an example, I'll use the price of plastics, as its a common recyclable and also of course has a direct link to oil. HDPE naturals fell from around 340 – 390 in January 2015, to 290 – 340 in December. Other plasctics had a less dramatic fall, but nevertheless fell.
Source: Letsrecycle.com
The story was the same for Packaging Recovery Notes (PRNs), as well as the prices for other commodities such as glass, paper, aluminium and steel.
Global demand for steel is predicted to remain sluggish, having fallen by 1.7% in 2015 and rising by only 0.7% in 2016. The graphic below shows the steep falls.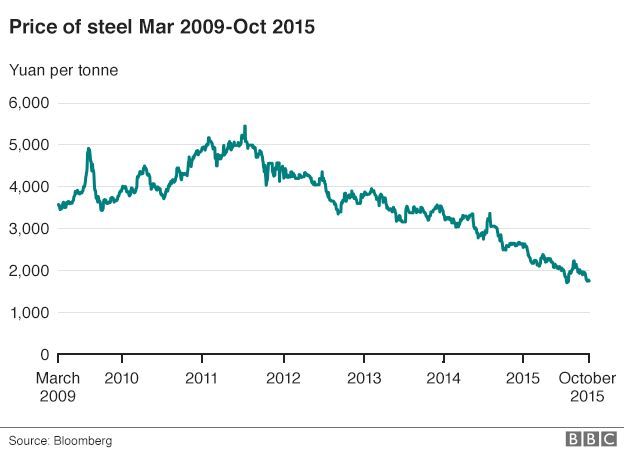 In the UK, towards the end of last year, the SSI steel works in Redcar closed with the loss of 2,200 jobs. This was followed by parts of Caparo Industries' steel operations going into administration putting 1,700 jobs potentially at risk. India's Tata Steel announced over 3,200 job losses at its plants in Scunthorpe, Port Talbot and Lanarkshire, as well as potentially more jobs across its plants.
Of course these issues are not only confined to the UK. I was reading an article which noted that the uptake of renewable energy technologies in Barbados fell dramatically in 2015, as compared to 2014. While some of this could be linked to the state of the economy in the country, the Barbados Renewable Energy Association (BREA) argues that lower costs of electricity has acted as a disincentive to individuals and companies switching. Indeed, I have previously written about the significant challenges facing the Caribbean in encouraging the uptake of  renewable technologies.
There are interesting times indeed ahead for the sector.