Digital Stortelling and Presenting
Hello everybody! Not only is this the first session of ICT for Year 3, this is also our first session back after the summer holidays! It has been nice to ease back in to University with an ICT session!
This session has been all about how we can tell stories using ICT within the Early Years. We have been given a wide variety of apps for the iPad that are fantastic for telling stories, all in their own ways using different methods. As well as this we have also had a chance to look at how the green screen works, and how this can be used to record something, and then integrate this into the apps we have already been looking at to tell a story. I have seen a green screen before, and heard about them, but I had never thought we would be given the chance to actually use them within our classrooms. Seeing it being used within our classroom at University, it has shown me how easy it would be to integrate this into the primary classroom.
For the main activity in this session, we were asked to get into pairs, experiment with the different apps, and finally have a piece of work we can show the class that tells a children's story using one of the apps we have been looking at.
Me and Holly chose to work together. We chose an iPad each and decided to click on a few apps to see which ones looked user friendly, with good characters and scenes etc. Finally we came across the Felt Board app. This is a fantastic app which gives the effect of layering felt on top of each other, to make people, scenes, objects etc, all using the finger on the iPad. Here is a demonstration on how the Felt Board app works.
We loved this app, because we chose to re-tell the story of little red riding hood, and this app happened to have all the scenes, animals, people and outfits we needed to recreate this story. The app is extremely user friendly, you can just pick and choose items from the menu on the left, put them where you want, re-size using two fingers, and the app does the rest for you! In terms of the Early Years or Key Stage 1 classroom, I believe this would be perfect. The children can relate to the felt, as they may have had experience layering felt to make pictures already, but it is also so simple to use that they could easily make a few different scenes to then make into a story. This app is extremely cross-curricular, and would be great in the Early Years to develop the fine motor skills.
The only negative I found from this app is the fact that when you have created a scene, you can take a picture of this, but you are limited as to what you can do with the picture. However, this is easily fixed!  When you have taken a picture of each scene, this adds to your camera roll,  these can then be added into the iMovie app for example, to carry on the story telling. We chose to use iMovie to turn our story telling images into a trailer.
Unfortunately, we ran out of time to turn our scenes into a story using a different app, so this will be continued next week, and the resulting iMovie will be posted during Session 2!
[Image: http://igloobooks.com/browse-books/ebooks/ibooks/noisy-readers-littlered.html#.VDLH6vldXlQ [online] Accessed:06/10/2014].
Reading:
Do young children need access to computers as much as they need to play with sand and water?
Preston, C. and Scott Baker, M. Do young children need access to computers as much as they need to play with sand and water? In: Burden, K. Leask, M. & Younie, S. (Eds.). (2014). Teaching and Learning Using ICT in the Primary School. Taylor & Francis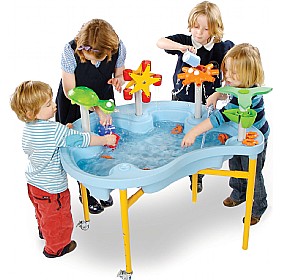 [ image: http://www.equip4work.co.uk/shop/seaweenies-sand-water-play-table.html. Accessed: 06/10/14]
This is a very interesting article which discusses the use of ICT within the classroom, as well as the role of the adult within this.
This article suggests that schools value new recruits to teaching, (as I will be next year) as having a good knowledge of ICT and being able to use this within the school, as well as being able to teach these skills to the other colleagues within the school. However, due to the constant stream of new programmes, apps, and technology being introduced constantly, I believe there should be support / training available for staff more often to ensure they are kept up to date, and therefore the children in their class can receive the greatest benefits from this too.
A major benefit of technology, which this article discusses, is the fact that if children are lacking in reading / writing skills, apps / computer programmes give them the ability to carry out activities which could be difficult for them usually.  For example, activities which involve clicking and dragging words into sentences for children that may struggle to write but can read well.  As well as this example, there are a huge amount of other benefits which children can gain from, by using technology during the school day.
However, as well as using ICT regularly, children also need to carry out the physical activities that do not involve ICT, for example exploring with different textures, learning to write using a pencil and playing sports. All these things will give children the skills they will need in later life that cannot be learnt by using an iPad for example.
From this article, I think it is clear that technology within the classroom can be extremely beneficial, and all teachers should feel confident in using this to enhance children's learning. However, I believe that enhance is the key word, as there should be a definite balance between using ICT, as well as other techniques of teaching and learning which is non-ICT based. Learning should take into account the different learning styles of all children, and it is an excellent way to deepen the knowledge children already have.